The 2020 Eau Claire County Fair is a GO, with modifications! Please click here to see the press release with all the details!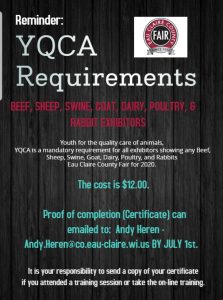 Fair Information
This year's fair is July 29-August 2, 2020. Here are a few reminders for you:
You will be able to register for the fair from Friday, June 26 through Friday, July 10 at FairEntry.com
If you would like a paper copy of the fair book, please call Andy at the Extension office (715-839-4712) to make an appointment to pick one up. They are $5. All superintendents and club leaders receive one free copy. You can also download the fair book below.
If you have any questions, please contact Debbie Kitchen, Fair Coordinator, at eauclairefair@gmail.com or 715-579-4703.
Entering exhibits for the fair using Fair Entry.
This is the first year we are using the online program, Fair Entry, so please be patient. You have from June 26 through July 10.
Before you start, we recommend you go through the fair book and write down all your exhibits by Department, Class, and Lot.
Before you go to the website, download these illustrated, step-by-step instructions that Rachel put together: How to Sign up for the Fair with Fair Entry. (The Tech Changemakers who have tried this say the website is pretty easy to follow)
Go to the Fair Entry website and sign in using Rachel's instructions and start entering your exhibits
HINT:  Most Classes are divided by age groups, usually grades 3-5, grades 6-8, and grades 9 and up. When searching for your Department (non livestock), first look for your age group under Department, then look for the Department name and Class under the Class Column. Then choose the Lot. Cloverbuds are listed under your grade completed.
We have had trouble getting the credit card payment option to work, so for now we ask that you make your payment by check. Checks should be made out to Friends of the Fair and mailed to Friends of the Fair, PO Box 434, Augusta, WI  54722.
The Extension office is opened for limited hours. Andy is there from 9:00 AM-12:00 PM; then 1:00-4:30 PM. Please call him if you have any problems. Remember, this is new, so there may be glitches.
Eau Claire County Fair Website
2020 Junior Fair Book
2020 Eau Claire County Fair Schedule (updated 7.6.20)
Fair Showcase Family Letter
Exhibitor Waiver
Fair Map
Open Class and Blank Fair Entry Forms-There will be no Open Classes for the 2020 Fair
4-H/FFA Blank Fair Entry Form
Open Class and Senior Super Class Fair Book
Open Class and Senior Super Class Entry Form
Food Preservation
Food Preservation Entry Card
Horse & Pony
Horse & Pony Project Fair Entry Form
Livestock Forms for the Fair

2020 YQCA Fair Requirements-updated 3.5.20
2020 YQCA Fair Requirements
Animal Project Managerial Form  (Updated 3.22.19) – Due May 1 to the Extension Office
Beef Equity Liability Release Form
Livestock Important Dates
Livestock Project Rules & Regulations
Eau Claire County Swine Project Extra Hog Form
Eau Claire County Fair Stall, Cage, and Pen Reservation Form
Livestock Bylaws
Livestock Committee Duties
Point System for Eau Claire County Livestock Program
Cost of Production Sheet
COOL Form – Country of Origin Declaration
The Swine Squeaky Clean Biosecurity Plan
Weigh-In Forms