The Fair Book, schedule, and required forms can be found at the new Eau Claire County Fair website: www.eauclairecountyfair.com. Check it out!
Exhibiting at the Eau Claire County Fair is an important part of the 4-H program year. 4-H partners with the EC County Fair because 4-H believes that exhibiting one's work at the fair fits really well into the Learning by Doing model (Do-Reflect-Apply) and also supports the 4 Essential Elements of Youth Development: Mastery, Independence, Belonging, and Generosity.
The Eau Claire County Fair happens because of donations and volunteers. If you would like to volunteer or donate, please contact the Fair Coordinator at eauclairefair@gmail.com. Or, visit www.eauclairecountyfair.com website and use the Contact Us link.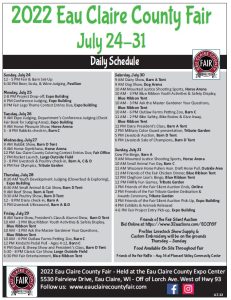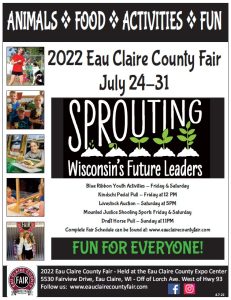 If you have questions about the role of 4-H in the Eau Claire County Fair, please contact the 4-H Program Educator, Rachel Hart-Brinson at rachel.hartbrinson@wisc.edu or Area Extension Director, Catherine Emmanuelle at catherine.emmanuelle@wisc.edu