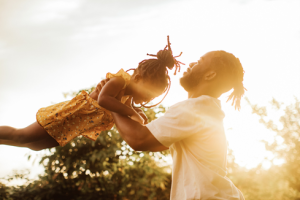 The University of Wisconsin-Madison Division of Extension is your source of well-researched, quality information about families and relationships. Visit our state-wide Parenting & Family Relationships website for a variety of topics:
Prenatal/Infants

Toddlers (1-2 yrs)

Preschoolers (3-5 yrs)

Elementary-age

Teenagers

Families in Transition

Healthy Relationships

Family Health & Well-Being

Caregiving
Parenting information when you need it.
Finding reliable parenting information and advice on the web can be overwhelming! How do you know what you can trust — especially when you are busy and there's just so little time?
Just in Time Parenting is a free parenting newsletter that is delivered by email and specific to a child's age and needs. They are designed so that information that's relevant to your family is automatically delivered to you just in time!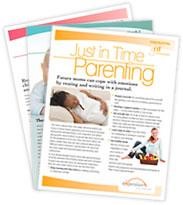 Each issue includes:
Easy to use guides on how your child is developing

Tips on raising a healthy, happy child

Tools for solving common parenting problems

Strategies for coping with the challenges of raising children
Why should parents choose Just in Time Parenting?
Timely automatic delivery directly to your inbox

Available in English and Spanish

Access to full-color PDFs for printing and sharing

Links to podcasts, videos, and other resources

Commercial free — no toy or product ads

Based on research and written by experts who are parents themselves!
Thanks to generous donations, Extension Eau Claire County is able to distribute Just in Time Parenting newsletters in English and Spanish to Mayo Clinic Health System and HSHS Sacred Heart Hospital. Interested in making a donation to support this and other parenting programs? Reach out to Yia Lor at yia.lor@wisc.edu
SUBSCRIBE NOW! Visit https://jitp.info/ to register.
Parenting the Preschooler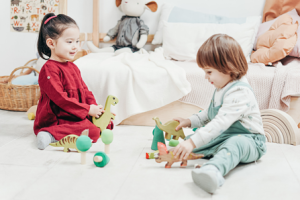 A preschooler is a whole person with a big, complicated job: growing up! There are important skills they need to learn in the next few years, especially as they get ready for Kindergarten. As their parent or caregiver, you are their most important teacher and supporter! 
The Division of Extension's Parenting the Preschooler website and fact sheets were designed to support parents and caregivers of preschool age children. On this site, you'll find downloadable two-page fact sheets on a wide variety of topics related to caring for preschool-aged children. Learn practical tips about: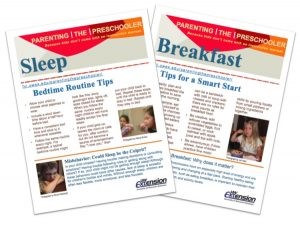 We hope the Parenting the Preschooler fact sheets will help to:
Enhance parent and caregiver relationships with children

Increase parent and caregiver confidence

Redu

ce parent and caregiver stress
Parenting Video Library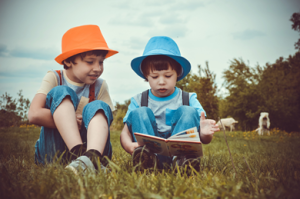 Are you looking for a trusted source of information on parenting?  The Division of Extension offers free, short, research-based, positive parenting videos addressing a variety of topics!  Parents can choose from approximately 60 videos, and new videos are released every Thursday at noon.  Videos are 3 – 5 minutes long and share practical tips on topics related to family engagement and child development:
Parenting… Behind the Behavior

Money as You Grow

Strong Feelings

and More!
Check out the video library at https://www.facebook.com/HDRInstitute/videos/?ref=page_internal
Is Your Child Ready to Stay Home Alone?       
Like many parents, you might be trying to decide if it is safe to leave your school-age child home alone.  Your child might be ready to stay home alone if they:
Indicate a desire and willingness to stay alone

Accepts responsibility and is able to make decisions independently

Shows an awareness of what others need
For many children, these abilities appear between 9 and 12 years of age.  Extension Eau Claire County offers a free online class called Home Alone.  The class was developed to help you prepare your child for self-care.  
Visit our Home Alone online program for more information or to register and begin the lesson plan.  Parents and children should complete this entire program together.
Local Resources
Family Resource Center
River Source Family Center
L.E. Phillips Memorial Public Library
Eau Claire City-County Health Department
JONAH
HMAA
El Centro
Neighbor to Neighbor
Power of Perception
Chippewa Valley Literacy
Eau Claire Healthy Communities
Boys & Girls Club of the Greater Chippewa Valley
United Way of the Greater Chippewa Valley
_______________________________
Family Programs
Triple P
Prevention Education Programs
I Can Problem Solve
_________________________________
Wellness Programs
Highlights of Taking Care of You
WeCOPE
_________________________________
Virtual Wellness Room
Live Animal Cameras
Music
Meditations
Coloring Pages