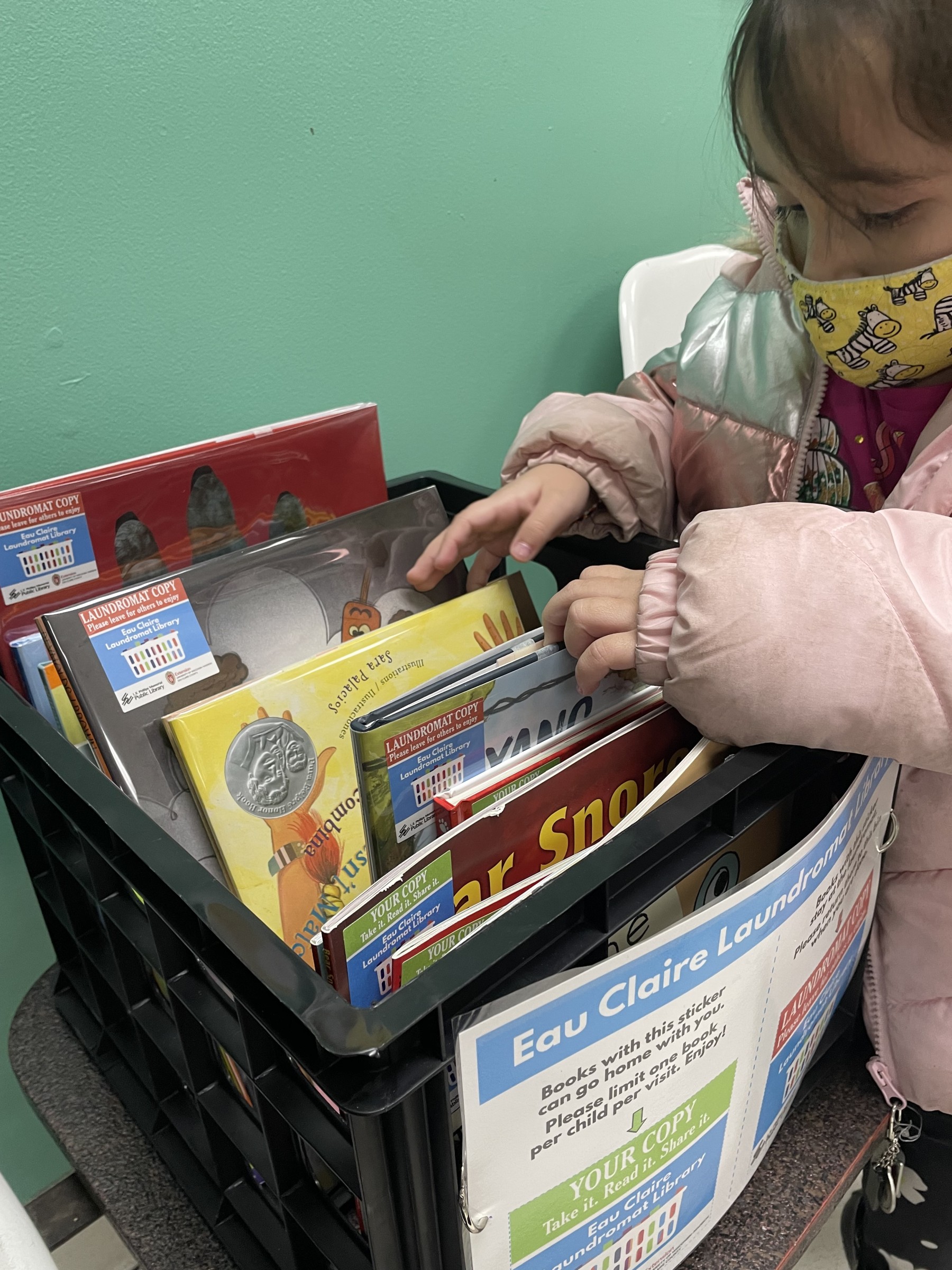 ​Extension is excited to launch laundromat libraries in partnership with numerous partners across Eau Claire County. This initiative aligns with Extension's value of programming in spaces where families visit, live, work, and play. Laundromats are places where families often gather for a few hours, and these are perfect opportunities to encourage brain building! The books and resources are available in English, HMoob/Hmong, and Spanish, and they provide opportunities for families to engage in positive interactions, such as reading and playing.
Extension is grateful for the support of local, state, and national partners who brought this project to life, including L.E. Phillips Memorial Public Library, The Women's Giving Circle Fund of the Eau Claire Community Foundation, Neighbor to Neighbor | Vecino a Vecino, United Way of the Greater Chippewa Valley, Altoona Public Library, Altoona Lions Club, Royal Credit Union, Extension Specialist Dr. Rob Nix, Extension Specialist Jenna Klink, APA's Magination Press and Too Small to Fail.
Partnering Laundromats in Eau Claire County
Spooner Avenue Laundromat
1427 Spooner Avenue
Altoona, WI
Laundry Express Laundromat
2655 Golf Road
Eau Claire, WI
London Road Laundromat
2820 London Road
Eau Claire, WI
Pinehurst Laundromat
3061 N Hastings Way
Eau Claire, WI
Risler's Laundromat
3233 Seymour Road
Eau Claire, WI
Super Wash Laundromat(s)
2625 N Clairemont Avenue
2703 Birch Street
Eau Claire, WI
Vine Street Laundry
2005 8th Street
Eau Claire, WI
We Need Your Feedback!
Have you visited one of the Eau Claire Laundromat Libraries? If so, please take a quick survey by clicking the link below! Your feedback helps us improve service and share this initiative's impact with stakeholders. Thank you!
Interested in learning how to start a laundromat library in your community?
Below are some resources that our team reviewed when looking to bring laundromat libraries to the city of Eau Claire.
Laundromat Library League – This nonprofit organization provides children's books to laundromats for families to enjoy. They have also generously provided resources on how to start a branch in your community. Click "Get Involved" at the top of the website to learn more.
Laundry Literacy Coalition – This coalition was created by the LaundryCares Foundation and the Clinton Foundation's Too Small to Fail initiative to make early literacy resources available to underserved communities through local laundromats. Explore the site, and be inspired!
Talking is Teaching – This is a public awareness and action campaign that supports parents and caregivers in boosting children's early brain and literacy development through simple, everyday actions. Under the "Resources" tab on the website, you can find tips on how to turn 'wash time' into 'talk time!" This is where you can also access the themed monthly bundle called "Let's Talk About Laundry Time."