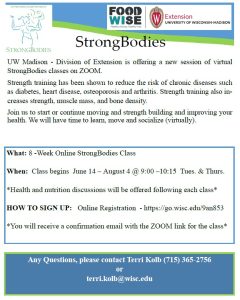 UW Madison – Division of Extension is offering a new session of virtual StrongBodies classes on ZOOM.
Strength training has been shown to reduce the risk of chronic diseases such as diabetes, heart disease, osteoporosis and arthritis. Strength training also increases strength, muscle mass, and bone density.
Join us to start or continue moving and strength building and improving your health. We will have time to learn, move, and socialize (virtually).
A new 8-Week Online StrongBodies class will run June 14 – August 4 @ 9:00-10:00 Tuesday and Thursday.
*Health and nutrition discussions will be offered following each class*
To register online, follow this link.