2019 Fall Meat Goat Seminar and Judges Workshop
Kids and Cows Flyer
Kids and Cows Agenda
2019 Charter Information (Charters are due to Extension office October 15)
Renewing 4-H Clubs/4-H Groups
New 4-H Clubs/4-H Groups
Charter Completion Guide
Financial Page Example

About 4-H / Join
Contact the Extension Office for forms about 4-H and enrollment forms.
Logos
4-H Name and Emblem User Guide
Extension Eau Claire County Brand and Visual Identity Use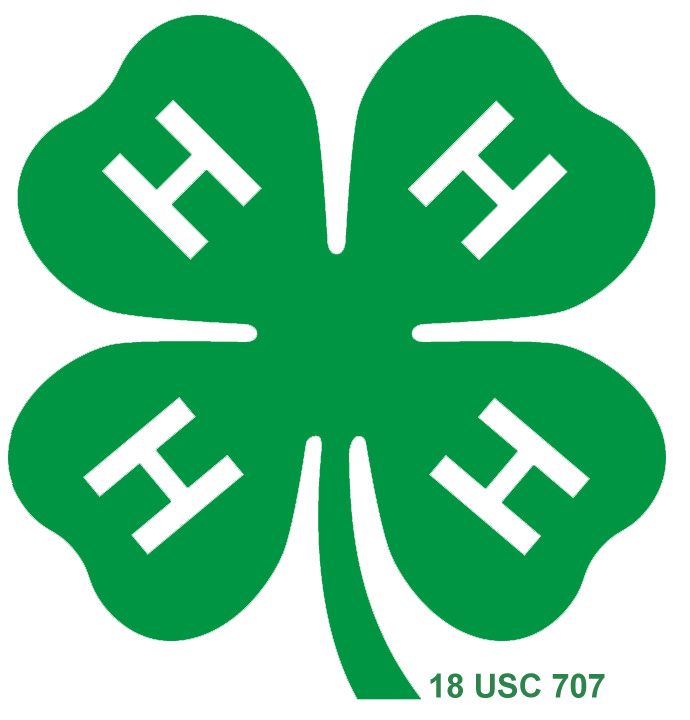 Cloverbud
Cloverbud Learning Book
Community Volunteer Opportunities
Check back soon! Also check the most recent Clover Leaves newsletter.
Fair Information
This year's fair is scheduled for July 24-28, 2019.  Here are a few reminders for you:
Please double check that you have turned in your enrollment form into the Extension Office.
The deadline to add or drop your yearly projects is Wednesday, May 1.
The fair entry forms are due at the Extension Office by 4:00 p.m. on Monday, June 3
(or postmarked by June 3) in order to receive premium pay. Any entries turned in after 4:00 p.m. on June 3 will be ribbon only (No Exceptions).

We will be taking reservations for fair books if you would like to pay $5 for a printed copy.  Watch the
Clover Leaves or contact the office for more information or to reserve your books.  All superintendents
and club leaders receive one free copy and there will be printed copies for use at the UW-Extension Office only.
You can also download the fair book from the website (see below).
Eau Claire County Fair Website
2019 Junior Fair Book
2019 Eau Claire County Fair Schedule

ALL HORSE AND LIVESTOCK FORMS REQUIRED FOR THE EAU CLAIRE COUNTY FAIR ARE LOCATED UNDER THE EAU CLAIRE COUNTY FAIR TAB.
Record Book – (All forms are PDF unless noted)
Purpose of the  Record Book
Why a Record Book? (Guidance)
4-H Year in Review/Record Book Pages-pdf | Word
Third through Fifth Grade 4-H Record Book Form
Sixth through Eighth Grand 4-H Record Book Form 
Awards Recog COMMITTEE GUIDELINES
Awards Recog GENERAL LEADER INFO
Awards Recog LEADER NOMINATION FORM
Awards Recog LEADER NOMINATION FORM (MS Word)
Awards Recog MEMBER SELF NOMINATION FORM
Awards Recog MEMBER SELF NOMINATION FORM (MS Word)
Club Award Guidelines
County Level Award Interview Critique Form
County Level Award Record Book Critique Form
Grades 3-5 Nomination Form
Grades 6-8 Nomination Form
Club Recognition Self Nomination Form
Grades 3-5 and 6-8 Special Achievement Record Book Guidelines
Outstanding Achiever Guidelines
Record Book Check In Sheet
Reviewer's Reflections
Sample Cover Letter
Sample Resume
Trip Requirements Worksheet
Trip Team Awards Chart
Eau Claire County 4-H Older Youth Council Grant Program Application