The internet has become the initial point of contact where parents seek out and access information. It also functions as the "front door" through which parents learn about and connect to Extension resources, including face-to-face education and assistance. Check out some of Extension's online resources below.
Home Alone

Like many parents, you might be trying to decide if it is safe to leave your school-age child home alone. Your child might be ready to stay home alone if they:
Indicate a desire and willingness to stay alone
Accepts responsibility and is able to make decisions independently
Shows an awareness of what others need
For many children, these abilities appear between 9 and 12 years of age. Extension Eau Claire County offers a free online class called Home Alone. The class was developed to help you prepare your child for self-care.
Visit our Home Alone online program for more information or to register and begin the lesson plan. Parents and children should complete this entire program together.
Parent Video Library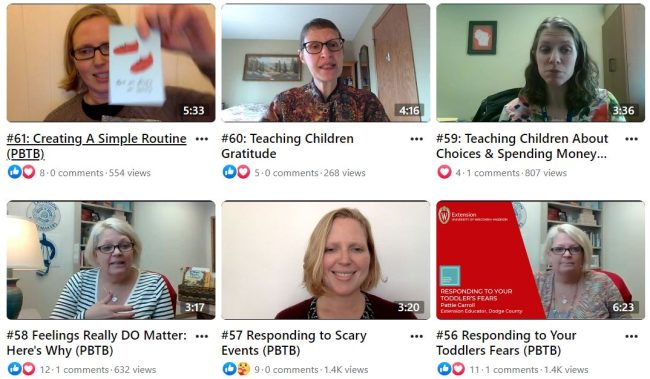 Are you looking for a trusted source of information on parenting? The Division of Extension offers free, short, research-based, positive parenting videos addressing a variety of topics! Parents can choose from approximately 60 videos, and new videos are released every Thursday at noon. Videos are 3 – 5 minutes long and share practical tips on topics related to family engagement and child development:
Parenting… Behind the Behavior
Money as You Grow
Strong Feelings
and More!
Check out the video library at https://www.facebook.com/HDRInstitute/videos/?ref=page_internal
Parenting the Preschooler

A preschooler is a whole person with a big, complicated job: growing up! There are important skills they need to learn in the next few years, especially as they get ready for Kindergarten. As their parent or caregiver, you are their most important teacher and supporter!
The Division of Extension's Parenting the Preschooler website and fact sheets were designed to support parents and caregivers of preschool age children. On this site, you'll find downloadable two-page fact sheets on a wide variety of topics related to caring for preschool-aged children. Learn practical tips about:
We hope the Parenting the Preschooler fact sheets will help to:
Enhance parent and caregiver relationships with children
Increase parent and caregiver confidence
Reduce parent and caregiver stress