The following resources are for Eau Claire County. If you live outside of Eau Claire County, you can find your local resources through this link: http://www.mhawisconsin.org/statewide-resources-by-county.aspx. 

2-1-1 Great Rivers
Dial 2-1-1 or (800) 362-8255
Free, confidential, 24-hour information on community, health and social services. A one-stop source of information for people looking for community services and resources, especially for those who need essential services, such as food, shelter, counseling, employment assistance, and more.
Website
Resource Directory
---
Aging & Disability Resource Center (ADRC)
721 Oxford Avenue, Eau Claire, WI 54703
(715) 839-4735 or (888) 338-4636
Website
---
County Veterans Service Office
721 Oxford Ave., Suite 1015
Eau Claire, WI 54703-5490
(715) 839-4744
Website
---
Crisis Lines
Dial 9-1-1 or (888) 552-6642
National Suicide Prevention Lifeline
988 or 1-800-273-TALK (8255)
Your call will be routed to the nearest crisis center in your area.
---
Eau Claire County Department of Human Services
721 Oxford Avenue
Eau Claire, WI 54703-5409
(715) 839-2300
Website
---
HOPELINE Text Line
Text "HOPELINE" to 741741
HOPELINE is the Emotional Support Text Line in the State of Wisconsin and provides service throughout the entire state. HOPELINE's purpose is to offer emotional support and resources before situations rise to crisis level.
---
National Alliance on Mental Illness (NAMI) Chippewa Valley
PO Box 0984
Eau Claire, WI 54701-0984
(715) 450-6484
Website
---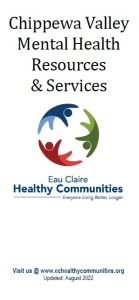 Eau Claire Healthy Communities coalition helps to promote the health and well-being of individuals, families and communities of Eau Claire County through collaborative and focused action. Click the link to view their "Chippewa Valley Mental Health Resources & Services" brochure. Visit their website for more information (www.echealthycommunities.org).
Click here for full brochure.
---
Every effort has been made to make this directory accurate, but it is possible that some information is missing or incorrect. Please report any errors the Extension Eau Claire County office (715-839-4712).
Updated: 2/22/2023